The Easy Live Auction platform is rapidly becoming the bidders preferred live bidding platform. Of course, we have always known that our platform offers both auctioneers and customers an easy, cost-effective way to participate in live auctions, but now the figures speak for themselves. In August, for the first time, Easy Live Auction has surpassed the-saleroom.com, with our UK ranking overtaking theirs*.
Not only has Easy Live Auction overtaken the-saleroom.com in the UK ranking, but visitors to our platform spend longer on our site with more pages viewed per visit than visitors to the-saleroom.com website. Our bounce rate is also 6% lower, meaning our relevance to visitors is greater.
While search traffic to the-saleroom.com is higher, Easy Live Auction has greater direct and referral traffic, demonstrating that for those in the know, our platform is the better option.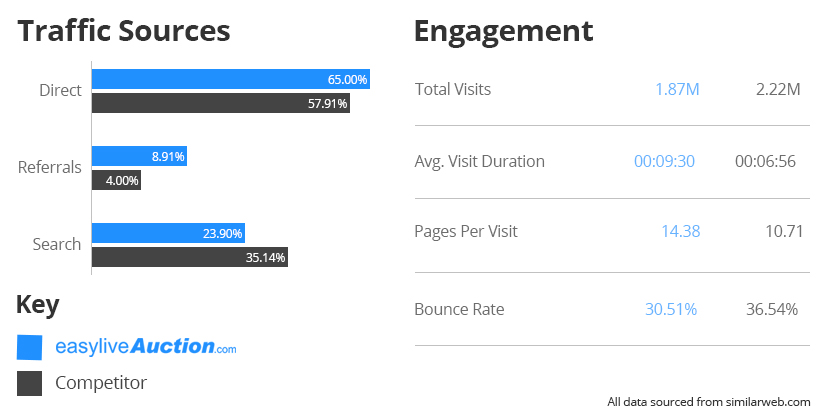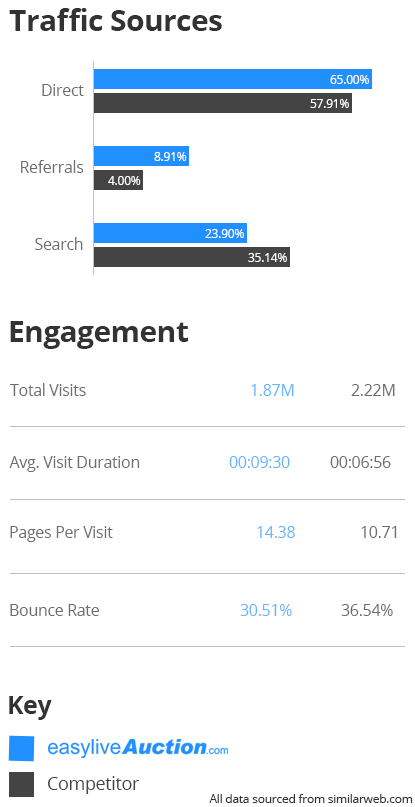 Why is Easy Live Auction becoming the bidder's choice?
Easy Live Auction offers a simple and intuitive user interface with no hidden nasties. Our fee structure is clear, and customers can save thousands by opting for our flat-fee bidding option, as this customer did recently (read more)…
Instead of having to pay an additional 4.95%+VAT on the hammer price of every lot won, bidders on Easy Live Auction can opt for a low flat fee. The majority of the auctions on our website have a simple £3 flat fee to bid live at a sale no matter how many lots in that sale customers decide to bid on.
We are also flexible, offering a free registration option, which, at 3%, still comes in less than the-saleroom.com. So, should a customer not want to pay the flat fee, they have another option.

What does this mean for auctioneers?
By offering Easy Live Auction bidding to customers, auctioneers save their customers money. This means bidders can afford to increase their maximum bids on the lots they desire, which benefits the vendor, bidder and of course, you, the auction house.
This is why so many auctioneers have come on board with Easy Live Auction in the last 18 months, meaning more bidders than ever can take advantage of these savings.
Jonathan Burnside (Managing Director) says:
"It's clear that Easy Live Auction is rapidly becoming the bidders preferred live bidding platform.

This week, having ranked higher in the UK than the-saleroom.com, closing the gap globally, it's clear that the word is well and truly out. Bidders now know they can save considerable sums, especially on valuable items, and auction houses know, maximum interest in their auctions can be achieved, by choosing Easy Live Auction."
Happy customers are the goal of any business. If you want to offer your customers the best live bidding experience and take advantage of the large active database of bidders, then Easy Live Auction is for you. If you haven't signed up already, then get in touch here and keep your bidders happy and ensure you get the maximum interest for your auctions!
*According to SimilarWeb as on 22nd September 2021