Tayler & Fletcher Fine Art sale : 29th and 30th of October
Author: Lawrence Bright
Tayler and Fletcher hosted their first auction with easylive on the 29th and 30th of October and it turned out to be their house record with a hammer of nearly £400,000.
Led by a significant local house contents of the descendants of a British naval officer, Lt Philip Beaver, including the 'Bulama Papers' archive (see below) – this was a classic contents sale harnessing the modern power of the internet. Using easyLiveAuction.com and the-saleroom.com, both platforms battled it out front and centre. easyliveAuction counted for £110,000 of the hammer and £150,000 in underbids.
Particularly strong for easyliveAuction was the jewellery which auctioneer Martin Lambert described from the rostrum as "the best jewellery selection he had offered in years". Much of it had come from the single owner contents.  Irish buyers on easyliveAuction were out in force, securing a large portion of the lots, including; lot 324, a late 1960s/1970s fire opal and diamond brooch/pendant by George Weil, for £5,400. easyLive also underbid the star jewellery lot (lot 355), an early 19th century necklace setwith pink topaz stones. Bidding took off on easyliveAuction with a flurry of bids, only to be pipped at £9,600 to a phone bidder. The three big ticket watches in the sale (all Rolex) went to easyliveAuction, including lot 398, an Oyster Perpetual bi-metal Sky-Dweller for £12,500.
Here are some of the other highlights of the sale:

Lot 556
My personal favourite in the smalls section was lot 556, an early 19th century Newton's Pocket Terrestrial Globe. In rare excellent condition, it unsurprisingly sailed around the globe a few times before coming down to an easyLive customer for £6,600.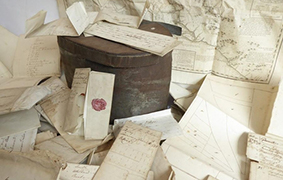 Lot 761
The Bulama papers (lot 761) contain 90 recently discovered documents relating to an experiment preceding the abolition of Slavery in the early 19th century. 275 British men, woman and children attempted to colonize a small island off West Africa (Bolama) to prove that sugar cane and cotton could be cultivated successfully without the need for slaves. Beset with disease and attack, the mission ended prematurely and the governor, Lt Philip Beaver returned home in 1793 with the Islands records. Beaver used these documents to form the basis of his book Africa Memoranda of 1805. easyLive took some of the opening bidding up to £9,000 but with 6 phone bidders booked, it came down to two way phone battle, eventually going to a private collector for £23,000.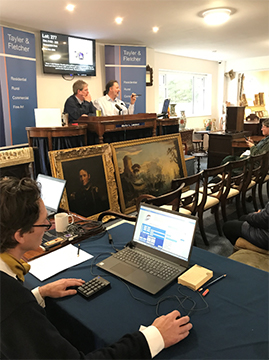 Sold to easyliveAuction! – Martin Lambert Auctioneer selling another jewellery lot to easyliveAuction.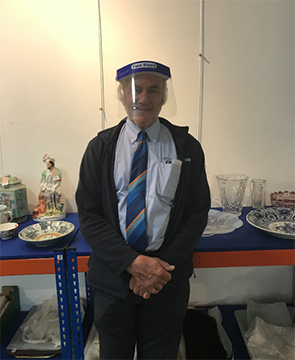 The new add-visors – porters working in their new add-visor roles.
Did you see what I did there? BOOM!